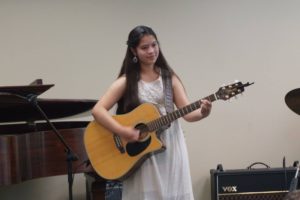 You have always wanted to learn how to play guitar. You've tried to teach yourself  with you-tube videos, bought some books, asked your friend to teach you, but nothing had really worked…Now you are wondering: maybe it is time to get some professional instruction, but that thought creates a lot of different problems and concerns. How do I find the good guitar teacher? How do I know he or she is really good? Where do I  meet with them? Should I look for private guitar teacher or for music school? How much do guitar lessons cost? And many other questions! No worries! We got you covered. This article will help you to get step by step instruction on how to find quality guitar instructor and where to take guitar lessons in Jacksonville.
1. Decide if you like to work with private guitar teacher or with music school.
With private teacher you have an option of having lessons at your place which is convenient, but on the other side – are you comfortable with having a stranger coming to your house? Or are you ok with going to the teacher's place…Choosing the school will give you and the teacher more comfortable environment. But having private teacher will give you more flexibility on how much you want to pay for the classes – independent teachers most likely will give you better discounts.
2.  How much do guitar lessons cost?
Most guitar lessons in Jacksonville go for the price ranging from $20 to $30 per 30 min class. With private instructor the price could be much less or more – depending on many different factors –  how busy the teacher is, if you go to the teacher's house or the teacher comes to you, how many lessons you take and etc. Some music schools have multi- class and family discount as well as military benefits. When you are calling around – make sure to ask to see who is offering something like that.
3. How to know if the teacher is qualified
It is very simple: ask the teacher to play for you – during your first lesson. Trust me – it will tell you everything you need to know. From my opinion it is much better than just to ask the teacher: what degree do you have or how many years you have been playing and etc. Just think about it: how do you know if the teacher really went to that college or finished it or studied good…The only way to find out for real – is to hear your potential teacher play for you. Don't be afraid to seem pushy or too forward on the first class by asking the teacher to play. Remember: when you hear it – the only question you have to ask yourself: do you want to play like that? If the answer is immediate yes!!! – there you go – that is your teacher!
4. List of established places where to take guitar lessons in Jacksonville in alphabetic order:
First Coast Community Music School
Jacksonville School of Music
Morris Music Academy
Music&Arts
Wind of Change Academy
If you would like to look for private guitar teachers – there is a good website that has list of great musicians in the area. It's called GigMaster. Find the musician first and then ask if he or she offer private lessons.
Hope that helps! If you have more questions, give us a call: (904) 477 1552