Guitar Lessons for Kids Ages 5&Up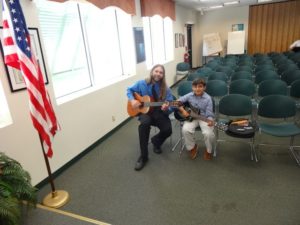 WOC Academy offers guitar lessons for kids starting at age of 5. We believe that at this time most of the children developed enough of muscles strength and fingers control to be able to hold a guitar (of course, not the full size yet) and to reach over and adequately press the strings.
Your child expressed interest in learning guitar, but you are not sure which instrument to go with. We recommend to go with the one that the student is excited about. But having said that, at WOC you always can schedule initial lesson where we give you a mix of guitar +piano, guitar +drums, guitar+ukulele instruction on the same lesson. That will allow  your child to see guitar lesson in comparing to other instruments. It might help to make a better decision.
There are several ways of learning how to play guitar. You can learn how to read music (using Mel Bay Guitar Method Book), how to play using tabs or learn chords and play by ear. Therefore in WOC academy we are combining all three ways. This method gives our students the perfect mix and well rounded guitar playing skills.
We host annual free recitals to give our students opportunity to perform. It is important to let children to play guitar on a stage as early as possible. Young student usually don't have stage fright. At the recitals very often along with playing a solo, student will be playing in a duet with another student/instrument or in an ensemble with several other student.
At WOC Academy we ask our students to practice every day. We would start a new student with playing guitar at home for a about 10 min per day and increase that time amount gradually. Gradually is a key word here – you don't want to over do your practice before you built fingers calluses.  By the end of the second year of taking guitar lessons for kids at our school your child should be at 1 hour guitar practice every day. We encourage our student to play songs of their choice. Playing tunes that you know helps practice motivation.
If you have any further question or would like to schedule an initial guitar lesson for your child,
please, call (904) 477 1552
Information about our Music School                        More Music Lessons