Piano Lessons for Children & Adults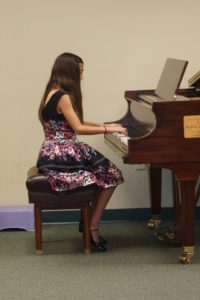 WOC Academy is offering piano lessons for students of all abilities and ages from 3 year old to seniors. We are located at 14180 Beach Blvd, #10 Jacksonville, FL 32250 and 10365 Hood Rd #105, Jacksonville, FL, 32257.
  We have many different instructors to choose from, therefore we hope that we will be able to find someone who you or your child will really like.
Our piano teachers make it fun and easy to learn how to play piano. They will make sure to give you the best music education possible.
We guarantee results, but it is very important for the students to practice every day! At our music school we offer FREE Recitals once a year and Holiday Concert in December. This way all students have an opportunity to perform on public and to share their achievements with everyone.
We offer one-on-one private piano lessons.
We have No Contract -No Registration Fee. Before you start taking regular lessons you can get a  try-out.
For Kids  |    For All Beginners   |   For Toddlers   |   For 3 Year Old |   Adults
We offer piano lessons for beginner, intermediate and advanced students.
Piano lessons for beginners  are the most popular lessons in our music school. A student is considered a beginner if he / she had never played the piano before or had a chance to learn piano for less than 3 months, regardless of the age of the student. We begin to teach piano lessons for beginners at the age of 3. We teach children as well as adults.
To learn piano properly you must make sure that you / your child is practicing every day! It is a mistake to think that you have to practice a long time immediately for best results. The secret to a successful start piano lessons is consistency! We ask our students to play each song exact amount of times 2-3 per song to start) rather than a certain amount of time (10min, 15 min and etc.). You will begin to play every song homework 2-3 times a day during the first week (2-3 songs). For best results, choose the same time of day for your practice. This will make it part of your routine, and it will be easier for you or your child. The amount of times and the songs will gradually increased by your teacher, giving you more time to practice the piano.
We also offer keyboard lessons for children and adults.
Do you need a Piano Tuner?
We recommend experienced piano tuner  Dmitriy Ogorodnikov: (904) 333 1271
Remember! You do not need anything for trying out! After the lesson, try if you enjoyed it, and would like to give him a chance to start piano lessons for beginners, you will need the following:
1. Piano or keyboard (66 keys at least). It would be nice if the keyboard is full size (88 keys) and weighted keys, but you can use any keyboard during the first 6 months (but no more), you do not want your fingers to get used to the wrong position, because smaller size keyboard usually have smaller keys that feel very different from the full-sized piano with weighted keys or a regular acoustic piano. If you do not have a keyboard, and do not want to buy it within the first month or so, until you are sure that your child will remain with the lessons, you can rent the keyboard from our school for $ 1 a day.
2. Set for beginner piano books. We have a piano book in our school for sale. We prefer to start our students with a set of books by John Schaum. Therefore, we would like to use those particular books of the author, because of the logical method of teaching music. Each book has its own purpose. See more details on Beginner Piano Books page.
             Music Lessons            |          Music Lessons Prices      |      Good Piano Instruction Components