At Wind of Change Academy we offer music lessons for preschoolers!
Music Lessons for preschoolers are the special individual & private lessons we offer at WOC Academy at our both Beach Blvd and Baymeadows Rd locations. We have teachers with special education, training and experience that have mastered a technique of teaching preschoolers to play a music instrument. We've had the most susses with teaching piano (Classical/Traditional) and violin (Suzuki) at the early age. Having said that – we also have a number of students who is taking drums and ukulele at the ages of 3-5 and showing great results.
When children start to learn music that early – it gives them great advantage. At the preschool age a brain of a child is like a sponge. With correct curriculum and steady routine – children achieve phenomenal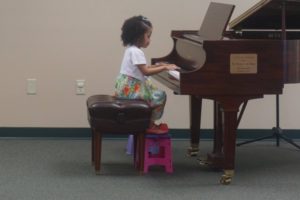 results at playing piano and violin by the time they reach the age of 5.
It is very important for the parents to be involved in every day practicing because children at that age are not capable on organizing their own routine.  As the lessons continue – children become more independent in their practice commitments.
If you decide to find out if your child is ready for music lessons being a preschooler – here is how it works:
We recommend to schedule your initial lesson to see how you and your child like it first. We have FREE Recitals once a year + Holiday concert in December. Please, check out our Facebook page for pictures and videos. Please, let us know if you have any further question or if you like to schedule your initial session.
(904) 477 1552