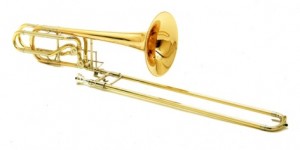 Trombone Lessons Jacksonville FL program is provided by Wind of Change Academy for students of ages 8 & up.
"Wind of Change Academy" is a unique Music School that combines the exclusivity of having private teacher coming to your house with variety of instructors' choices and an organization of Educational Institution. For your convenience you can have your Trombone teacher come to your place for the lessons. Every Spring "Wind of Change Academy" has a Recital where students have an opportunity to show their accomplishments in playing Trombone as well as other instruments. But if some students don't feel comfortable to perform, they can choose not to participate. If you are not sure right away that your child is going to commit to trombone lessons, you can rent an instrument from us for several of months for as low as $1 a day instead of buying it right away.
Our Trombone Lessons are all private one-on-one instructions.
Lessons are 30 minutes, 45 minutes or 60 minutes long.
We have special programs to prepare students for High School and College entrance or to participate in variety of National competitions.
To schedule a try-out for our Trombone Lessons Jacksonville FL program, please, call:
(904) 477-1552
15 min for $10 or 30 min for $20
Good to Know: modern brass instruments generally come in one of two families: valved brass include all of the modern brass instruments except the trombone: the trumpet, horn (also called the French horn), euphonium, and tuba. Slide brass instruments use a slide to change the length of tubing. The main instruments in this category are the trombone family. Natural brass instruments on which only notes in the instrument's harmonic series are available. Such instruments include the bugle and older variants of the trumpet and horn. Natural instruments are still played for period performances and some ceremonial functions, and are occasionally found in more modern scores, such as those by Richard Wagner and Richard Strauss.
Other Music Lessons we offer at WOC