Piano Lessons for 3 Year Old
                                                                                                                       Call for Try-out:
                                                                                                  For New Customers: (904) 477 1552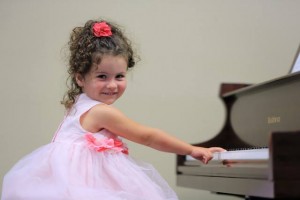 Piano lessons for 3 year old:
The question is: how young is too early to start piano lesson? Is that a good idea to do piano lessons for 3 year old or piano lessons for 4 year old?  We hear a lot of different opinions about if you could start teaching children to play piano that early or not.
We think of teaching piano lessons for 3 year old as of learning your first language in a way: you don't know you are learning it, you don't show much of what you understand, but all the sudden you start speaking it!  In our Music School we believe: teaching piano or anything else, really, to children as early as possible gives them huge advantage in the field.
Our Music Director Ms. Weaver says: "There is the way to tell if your child is ready for piano lessons. You have to check for 2 things:
can your child see the difference between 2 different patterns on the piano: 2 black keys together and 3 black keys together?

can your child say ABCDEFG by memory? (not the whole alphabet! Just those 7 letters, because that's what you need in order to learn notes names). Good idea to teach your child to say it backwards as well.
Follow This Link to Find Out More About Wind of Change Academy
If the answer to both of those questions is "yes" you can bring your child for first initial lesson for only $12.50 (15 min) or $25 (30 min). Call to schedule or if you have any other questions: (904) 477 1552
If our teacher, who specializes in teaching 3-4 years old thinks that he/she is ready we will start you with 30 min lessons once or twice a week: depending on your availability, but the most important thing for a child to progress is to practice every day at home. Also very important for parents to be involved and practice with the student every day. And we always say at Wind of Change Academy: "The best day to practice is the DAY OF YOUR LESSON (right after it), because the student is still excited about the lesson and remembers everything very well. After that it is like a domino effect: make sure you don't miss any days and you will see what a great results you can achieve with piano lessons for 3 year old"!