Violin Lessons for Adults    
Hi there! Are you here because you are looking for violin lessons for adults? You are in the right place and our music school will be very glad to help you with that!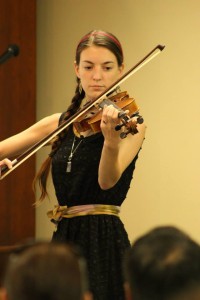 Learn to play violin with us! Let me start by answering some questions about violin lessons you probably have:
Are those violin lessons for adults near me? – We are on Beach Blvd (14180) very close to San Pablo. Our zip code is 32250, so we are in Jacksonville Beach. Do you know where West Marine is? We are in the same shopping center. You will see Music Lessons on  a road and building signs.
How much do violin lessons for adults cost? – most popular schedule is 30 min once a week. It is $120 per month – you get the same day/time/teacher every week. For adults we also offer an option doing lesson to lesson (different time or day every week or if you like to take lessons every other week). The price is $30 for 30 min lesson. We also offer 45 min ($45) and 60 min  ($60) lessons.
How to see if I like the lessons? – schedule a try-out. You can do 30 min for $25 or 15 min for $12.50. See how you like it first, maybe try several different teachers if you like and go from there.
Do I have to pay a registration fee to start my violin lessons? -no registration fee.
Do I have to sign a contract? – no, you go month to month or lesson to lesson.
Will I have a chance to perform? – yes, we have free recital once a year, but you don't have to participate if you don't want to!
How do I talk to someone about violin lessons for adults  – call: (904) 477 1552 or e-mail: wocjax@gmail.com
Do I have to have a violin for my first violin lesson? – no, we have a violin to use for you during your try-out. If you decide to continue, we recommend Violin Shop to rent or buy a violin.
We combine Classical Violin methods with Suzuki Violin!
Being an adult violin student you have several advantages: you have high motivation, it is very easy for you to study notes and you have physical and mental  strength to practice! Our Violin Lessons for Adults program is designed to fit anybody's busy schedule: we offer classes in the morning, early afternoons and evenings during week and Saturdays. Ask us for upcoming openings on Sundays afternoon if this is a good day for you!
We will work with your job schedule, you can have lessons on a different day every week or even twice a month or once a month. We understand how difficult it is to work and take lessons at the same time and are trying to work with every student's situation!
You violin teacher will make sure to help you to choose the songs according to your interests . Of course, at first you start with playing very easy songs, but if you practice on a regular basis, very soon you will be able to progress into the songs that you want to play: classical or popular. The choice is yours. We also have violin books for sale: Essentials Elements and Suzuki Violin School.
We will start you with 15 min or 30 min initial lesson to see if you like our violin teacher/teachers. And after that you can take 30 min ones or twice a week, or 45 min or 60 min lessons. If you need faster results,  you can take lessons more than twice a week, we have a special discounts for that.
Remember! It is never too late to learn violin! Let us know if you have any question about our Violin Lessons for Adults!