Adults and Children
Wind of Change Academy is offering piano lessons for beginners at out Jacksonville Beach location (14180 Beach Blvd & San Pablo Rd). We teach adults and children ages 3&Up. We believe that the most important things in learning piano are the following:
Step by step clear instructions.
Professional, fun and positive piano teacher.
Every day practice routine.
Good beginner piano books (we use Schaum).
At first, schedule initial try-out lesson to see if you like it. Possibly try several different teachers to make sure you find someone who your child or you can really relate to.  Get good piano books. Look on-line for your favorite  songs – for example search: "easy piano + your favorite song name+pdf". Print it out and bring it to your first class – next lesson after the try-out. You will be amazed how soon after starting your piano lessons for beginners at WOC Academy you will be able to play your favorite songs!
Remember to practice every singe day. It doesn't have to be long practice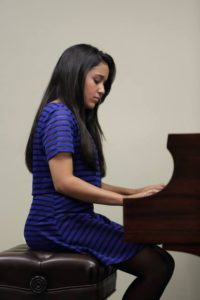 at first: if student is a child, start with 10 min per day. If you are an adult, start with 20 min every day for the first month. Every month increase your practice time by 10 min a day. Make a rule never miss a practice doesn't matter how busy your life is. You will be rewarded so much! As your songs get more advanced and get "richer" sound – your practice will feel easier and easier every week. The reason for the practice getting easier is that if you are playing piano every day, your skills level will be always ahead of the song's difficulty.
If you have more questions about our piano lessons for beginners or would like to schedule your initial class, please, call or text (904) 477 1552 or e-mail wocjax@gmail.com
More Info About our Music School                  How to Choose a Piano or Keyboard