Trumpet Lessons Jacksonville FL program for Student Ages 7&Up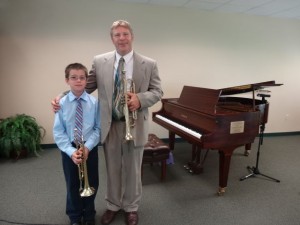 Wind of Change Academy offers Trumpet Lessons Jacksonville FL program as  one-on-one private lessons for students of ages 7&up.  Levels from beginner to advanced. We teach children and adults.
We offer 15 min FREE try out
(904) 477 1552
or e-mail wocjax@gmail.com
We teacher trumpet lessons at our 2 locations:
1st: 14180 Beach Blvd, Jacksonville, 32250                |           2nd: 9810 Baymeadows Rd, Jacksonville, FL 32256
Leaning how to play trumpet is not very easy, but if you practice on regular basis and stay with this instrument for a few years, you will be rewarded with fantastic sound and great time paying this instrument! Keep in mind that learning how to take care of trumpet is equally important to learning how to play it.
Our Trumpet Lessons Jacksonville FL program also welcomes adult students to try to master this magnificent instrument.
If you have any questions about out trumpet lessons, please, let us know.