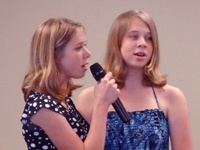 Lavilla School  of  The  Arts  Audition Training
Lavilla is a wonderful school to be at. But every year it becomes more and more difficult to get in there. You have to really want it and put a lot of work and heart into preparation. If you would like to addition for Lavilla and would like to make sure you did everything you could to succeed, we are here for you!
We have professional music instructors who can help you to get ready for an audition for Jacksonville Art Schools like Lavilla and Douglas Anderson. We provide Sight Reading and Ear Training.
Call Us to Schedule your Free Try-Out to see if our school is right for you: (904) 477 1552
 Keep in mind that secret of successful audition at Lavilla is in the following principals:
talent  (don't try for something that you don't have ability for)

discipline (practice every day)
allow enough time to get ready (make sure to get yourself at list 6 months of any training to make sure you know how to read music, get appropriate ear training and etc.), but also remember even a little bit of training is better than no training at all.
When you come to us, don't worry about  any sheet music or recordings. We will complimentary provide it for you. We also can provide accompanist to go with you to your audition with no extra charge.
LAVILLA SCHOOL OF THE ARTS
AUDITION INFORMATION 2014-2015
SUBJECTS FOR AUDITIONS AND WHAT TO BRING
 INSTRUMENTAL MUSIC
Bring your instrument unless it is a very large one
Prepare two pieces or exercises of different styles and three major scales.
Sight-reading material will be provided
VOCAL MUSIC
Accompanist will be provided
Bring sheet music of song you can sing (optional)
Accompaniment tracks are okay (no vocals)
Sight reading material will be provided
Training Prices                  More Info About Our Music School
Instrumental  Lessons                     Voice Lessons