We offer music lessons for many different instruments. Lessons are available Monday – Saturday. For example on Monday through Friday most popular times are from 3pm to 9pm. On Saturdays we are open all day from 8am to 6pm.  For exact availability for particular instrument, please, give us a call: (904) 477 1552. Please, review below our departments, instruments and levels of instruction.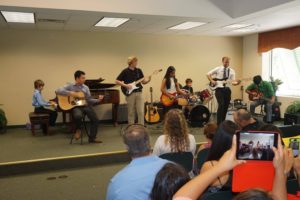 Piano Department: piano, keyboard, music theory, composition. All levels.
Vocal Department: voice & singing lessons, improvement of speech through vocal exercises, articulation & public speaking, song writing, harmonizing.
Violin Department: violin, viola, fiddling.  All levels.
Guitar Department: acoustic guitar (with a pick or fingers technique), electric guitar, bass guitar, ukulele, banjo, mandolin, songs composition, guitar and vocal solo.  All levels.
Percussion: drums, tambouring, xylophone. All levels.
Brass: trumpet, trombone, bugle, jazz harmony. All levels.
Woodwinds: flute: beginner – late intermediate, saxophone, clarinet, bass clarinet. All levels.
.First step in starting any music lessons at WOC is scheduling initial try-out to see how you like it first.  We offer 15 min for free to try. After that you choose your lesson plan. For instance most students start with 30 min every week. We have no contract and no registration. If you start your classes not at the beginning of the month – we prorate the price for you for what is left in the month.
Most classes are individual one-on-one sessions. Moreover we have music lessons designed for 2 (great for couples, parents and children, grandparents and children, friends and etc.) In addition Wind of Change Academy teaches some of our students who has interest in writing music how to compose songs and harmonize the melody.
Music lessons home practice:
I addition to taking music lessons most importantly is to support it with good amount of home practice. Therefore you would need to set aside a certain amount of time every day to play the instrument. It doesn't need to be too long, especially at the beginning. For instance 10 min to start with is enough as long as it is every day habit. After that you can slowly add more time to your daily practice.
Contact Us      |      Videos   |  Pictures